by Albert Yefimov, Head of Skolkovo Robotics Center
As I discovered a few years back, Russia is a country with roboticists but not robots. We have almost the world's highest number of engineering graduates proficient in robotics but we are second to last worldwide in terms of the number of industrial robots deployed in our country. This peculiarity is unique among not only BRICS but also around the globe. According to a prominent Russian educational portal, there are 30 universities that offer 'robotics and mechatronics' engineering majors for undergraduate students, with Moscow and St. Petersburg alone hosting more than one-third of them.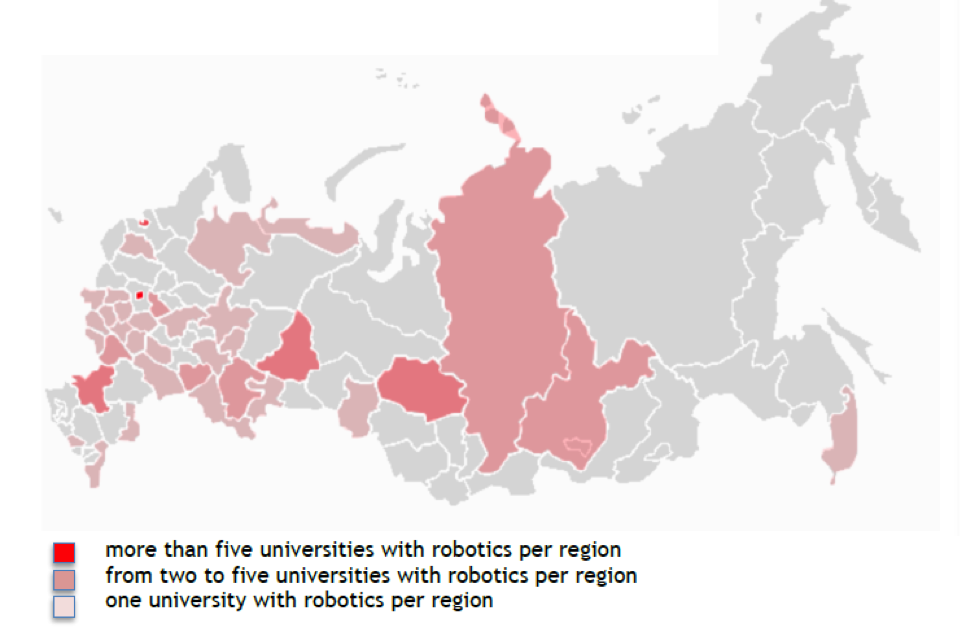 According to the International Federation of Robotics (IFR), estimated annual shipments of multipurpose industrial robots for 2013 totaled 615 units in Russia compared to 18,297 units in Germany and 2,161 in France. The average robot density (number of robots per 10,000 workers) is below 10 in Russia while the average figure worldwide is 62 (2013 figures), the highest levels being 437 in Korea, followed by Japan (323) and Germany (273).
Yet this is not the full story. It was long ago noted that the Soviet film industry never produced any type of aggressive or military robots. All of the stories told about robotics in Soviet science fiction were about funny, kind electronic creatures that strictly obeyed Asimov's laws. Asimov's writings were also very popular in the USSR and translated freely as he was considered as a very progressive American writer (contrary to Phillip F. Dick who was never translated in the USSR and started to be known only in the new Russia). This vision is very distinctive from the Hollywood stories of the same era or later: the American-born myths on robotics shown on the big screen were mostly about robots' rage against their human lords.
Thus, the typical Russian attitude towards robots in everyday life is similar to that of the Japanese or Koreans – they all love robots per se and do not intrinsically see any danger in electronic beings embodied in a humanoid shape.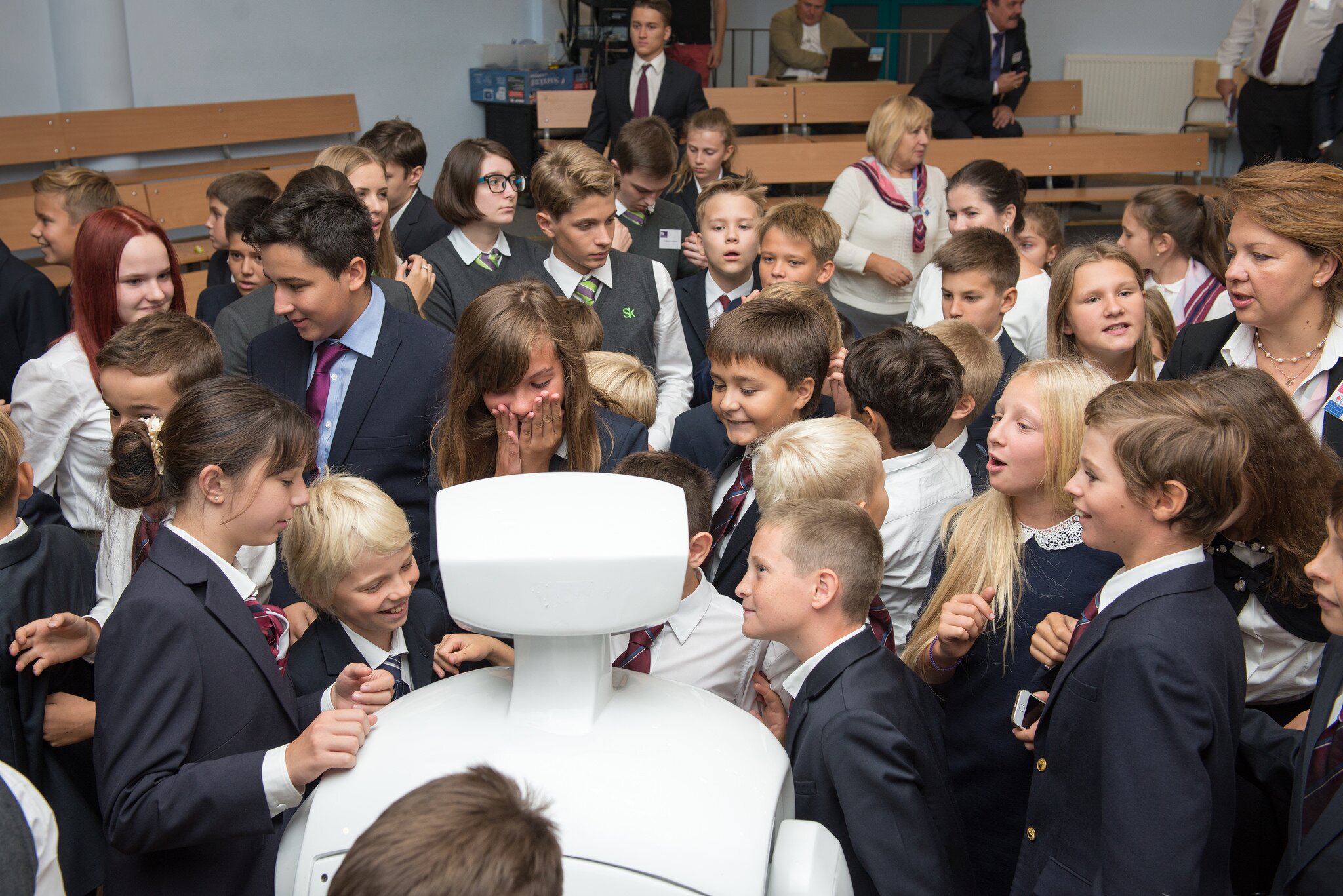 Russia has all of the prerequisites for the development of robotics: a small population facilitating demand for labor-saving technol­ogies, a high level of engineering and technical education, and many years of R&D in robotics and related fields. Due to the country's current low level of industrialization, Russian roboticists are focusing their talents on human-centered robotics, creating solutions that do not replace humans but empower them. This is called "intelligent augmentation" or "intelligent amplification". According to my data, there are more than 200 companies in Russia that specialize in robotics and related technologies. One major area of robotics for Russians is service robotics. Over here, defense budgets take the lead. Over 150 companies out of 200 are involved in R&D and marketing of technologies involved in defense or emergency robotics (including de-mining and reconnaissance). There are around 130 to 150 startup companies in Russia that implement projects or conduct activities related to intellectual robotics and base technol­ogies.
On Sept. 28, 2010, Russian President Dmitry Medvedev signed a law on the Skolkovo Innovation Center, giving rise to the not-for-profit Skolkovo Foundation. Charged with providing the catalyst for the diversification of the Russian economy, the Skolk­ovo Foundation's overarching goal is to create a sustainable eco­system of entrepreneurship and innovation, engendering a startup culture and encouraging venture capitalism. Skolkovo is a part of the Russian government's "Economic De­velopment and Innovation Economy" program, with total budget of 3.5 billion rubles earmarked for the project through 2020. The interdisciplinary Skolkovo Robotics Center was established in the summer of 2014 as a subsidiary of the Innovation Center focused on robotics research and innovation. The Skolkovo Robotics Center (SRC) consolidated almost all of Russia's civilian robotics projects in a hub that catapults startups from the prototype phase to commercialization of products and is now Russia's largest hub for civil robotics.
SRC's mission is fourfold:
To support Russia's re-industrialization with the creation of a high-tech robotics industry
To raise awareness nationally and globally about Skolkovo, Skoltech and Russian robotics research and startups
To attract thought leaders and resources to support the emerging Russian robotics industry
To accelerate the growth of Russian robotics by creating opportunities for new and existing companies
The Skolkovo Robotics Center's skills comprise mainly:
Industrial and service robotics: Research and development of software and hardware for Intelligent Transportation Systems, including automation of transport logistics operations.
Marine robotics including underwater robotics: Research and development of unmanned underwater robots for service and inspection.
Navigation and SLAM: Research and development of autopilots and tools of autonomous navigation for indoor, outdoor, marine and air applications.
Machine vision systems: Research and development of hardware and software for machine vision systems tailored to customer requests.
Educational Robotics Solutions: Research and development of hardware and software for STEM robotics education.
Medical Robotics: Research and development in microsurgery and rehabilitation robotics including sophisticated mechatronics and micromechanics.
Intelligent user interfaces: Research and development of software and hardware for natural language user interfaces, e.g. speech, gesture, BCI and haptic technologies.
The Skolkovo Robotics Center accounts for around a third of Russia's robotics startups. Among the Center's most prominent startups are ExoAtlet (Europe's only rehabilitation exoskeleton in the clinical trial stage), Wicron (auton­omous telepresence robots), KB Avrora (autonomous light com­mercial vehicles), RoboCV (autonomous ground vehicles for smart logistics), Vist Mining Technology (autonomous heavy trucks for mining) and Promobot (promotional robots), whose 24-year-old co-founder Oleg Kivokurtsev is included in Forbes "30 Under 30" for Europe in 2016.
The Robocenter organizes various innovation events, such as the Skolkovo International Robotics Conference to be held in Moscow on 20 May 2016.
More information about the Skolkovo Robotics Center
The Skolkovo Robotics Center will exhibit at Innorobo 2016 from 24 to 26 May 2016.
More information about Albert Yefimov: Biography & Interview